Day Four: On The Road Again…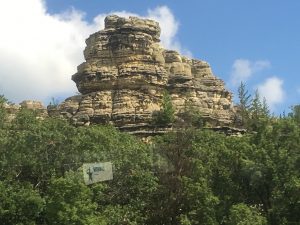 I got up nice and early and went to Rosen Nissan who was kind enough to fit us in this morning. Turns out the noise was from the connection between the muffler and the center pipe.  They clamped it together and we should be good for now! So, a little later than planned, we were on the road again.
We drove a little distance out of Madison and stopped for coffee. When we did, there was also a Cheese Market and a Jerky Outlet, so we had to partake. After refueling the car (and us), we hit the road.
We saw this cool site around Orange, WI:
We drove into Minnesota, which apparently seems to be embarrassed about itself because this was the only sign we saw on Route 90 when we crossed the border:

No fancy, welcoming sign, just information.
So we continued to drive across the bottom of Minnesota.  And drove some more…And drove some more…..
Until we finally made it to South Dakota: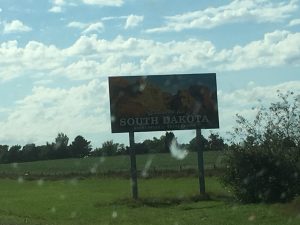 It was kind of a long day because of the late stuff, but we've just got back from supper and settling in for the night.
One thing I've noticed so far is that during much of our trip, the landscape (with a few exceptions) could be anyplace in upstate New York.  We've seen plains that go on for over and gentle rolling hills; lakes and rivers. Tomorrow, we drive to Wall, SD and then into the Bad Lands. This will probably be the point where the landscape REALLY changes.
Happy Journeys!
Mike