Books
The Reluctant Agent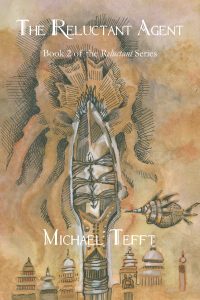 Captain Malcolm Robertson of His Majesty's Air Service is angry.
He has been blackmailed into resigning his commission and joining the British Secret Service. His mission? Defeat a malevolent supernatural being intent on controlling the world. Given his training as an engineer, he scoffs at the idea of the supernatural. Sequestered in the underground headquarters of the Secret Service, he must use his engineering acumen to find a way to identify an artifact powerful enough to defeat the entity. He soon discovers the only artifact powerful enough is housed in the Royal Treasury of the Austro-Hungarian Empire.

Malcolm and his team must retrieve the artifact without detection; a mission complicated by a meeting an old enemy. Even if they are successful, their mission isn't over. They still must find and confront the entity.

Can Malcolm overcome his skepticism and anger to obtain the artifact and defeat the entity?
Watch the book trailer here.
Available in various ebook formats here
Available in paperback here
The Reluctant Captain
   When a mysterious explosion destroys the bridge of His Majesty's Airship Daedalus, Lt. Commander Malcolm Robertson, Chief Engineer, finds himself thrust into the role of Captain on a secretive mission to Russia.
With an Airship full of British and Russian scientists whose intelligence is matched only by their egos, spies watching his every move, and a real saboteur on board, Malcolm must find a way to complete his mission and bring his crew home safely.
Formats
Paperback