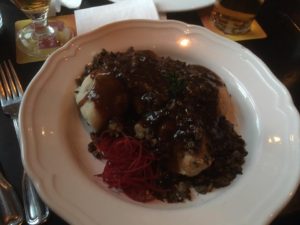 Thanksgiving has come and gone and now the crazy race for the holidays begins. But I wanted to stop for a moment and reflect on why I'm thankful this year.
Things For Which I Am Thankful
(OK – it may be acceptable now, but I have a near manic obsession of not ending a sentence with a preposition. I always remember "A preposition is a bad thing to end a sentence with")
I'm Thankful for the Travel Experiences I've had this year – This year, I think I've travelled more than I have in many years and that makes me thankful. In edition to our epic road trip across the country and back again, I got to spend a day in New York City getting to live my fantasy of joining Starfleet at the Starfleet Academy Experience at the Intrepid Air and Space Museum, a trip to beautiful Kingston Ontario for a college visit for my son, and our annual trip to the Theater Association of New York State (TANYS) Festival where I got to see a number of quality community theatre shows. And the icing on the cake was that I got to enjoy them with my family
I'm Thankful for my Writing Experiences I've had this year – It was kind a big year for me as a writer (despite the fact I haven't sold a significant number of books). This year, I took part in a book signing at a Barnes & Noble (where no one came), I sold my books at the Sherburne Arts Festival, I had my very own "Writer's Retreat" where the whole point of the trip was to write, and I took part in the Indie Author Day event. It's really made me accept myself as a writer. Now if I only had more time to write….
I'm Thankful for Professional Success – People who know me will know that I haven't always been happy with my day job (that's probably a bit of an understatement…) However, seemingly out of the blue, I was promoted! This really meant a great deal to me because I feel like I earned it the old fashioned way – through hard work. And I've finally been promoted to the highest level I've had in my career – some of that was my own doing, some of it wasn't. Either way, I'm thankful for it and look forward to the new challenges it will provide.
I hope that anyone reading this can look at their life and find thankfulness in their life. I know that sounds trite and just a year ago, I might have looked at my own statement very cynically. And we all know that there are many things going on in the world right now that can challenge that viewpoint. But I just want you to know that things can change and there are many things that can make us thankful.
Novel Update
Because of all of those travel experiences listed above, the actual writing of the next novel has slowed down considerably. With my promotion comes a great deal of knowledge that I need to document. So I am doing a ton of writing – just not on the novel. I'm hoping to carve out some time in the next month to spend more consistent periods writing. I can say I'm about half to two thirds of the way through the first draft – so I am making progress in drips and drabs.
Let me leave you with a picture from one of my more recent travel experiences. When we were in Kingston, we ate at a pub housed in the former law office of the first Prime Minister of Canada and I got to have the traditional Scottish "delicacy" Haggis with Tatters and Neeps. Malcolm would be envious!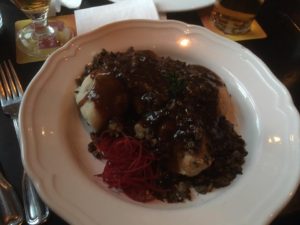 Happy journeys!
Mike
Read More