It's only been two weeks and I managed to make another blog post! Will wonders never cease?
Writing Updates
I've been trying to take the comments of my beta readers to heart and make some changes in the novel. A new character was falling a little flat and was part of a subplot that while important, veered too from the main story. It was cool, but the point I was trying to make was lost because it took a left turn in Albuquerque. My mission was to flesh out the character and reconstruct that section of the novel.
And, until today, I was not very successful. My attempts turned into sessions at staring at the screen, knowing I needed to do something, but not sure what. This past Friday night, I tried just writing a mostly useless backstory for the character…that is when I wasn't falling asleep at the computer. Today I sat down this afternoon and with the power of coffee (the true source of many writers' superpowers. Some writers will tell you it's inspiration and creativity. Bullshit. It's the caffeine!), I made substantial progress. I kept filling out useless backstory until he started to come into focus and the solution to fix the subplot came to me as well. I still actually have to write it, but at least I have a vision of where I'm going.
Genre Bending and A Wave of Nostalgia
Last Sunday, my wife and I went to see Scott Bradlee's Postmodern Jukebox in concert; the tickets were one of my Christmas presents. Here's an action shot from the concert: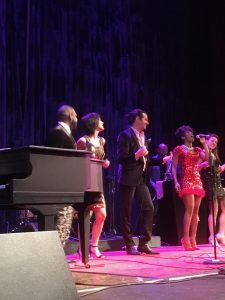 Postmodern Jukebox takes current pop hits by Taylor Swift, Beyonce, and even Justin Bieber and transforms them into songs that could have been played from the 20's to the 60's; from jazz to swing to Motown to gospel. The musicians were absolutely AMAZING – even my wife liked it and she's been only moderately interested in the group. If you get the chance to see them, I totally recommend it!
But what does this have to do with…anything on your blog?
My love of PMJ is similar to my love of steampunk: in both cases, they are genre-bending. Where PMJ takes music and transforms it into something that could be from another era, steampunk does the same thing with science fiction. It creates an alternate reality where we have major technological advances in a society we recognize. I know that some people like to keep their genre's pure, but I love a good mashup. Often times, taking two things and putting them together can create something totally new that isn't really the child of either parent. It can be good or atrocious, but it's something new.
The other parallel is that they both thrive on nostalgia and the conceit that things were so much better in the past. In truth, that's not true in the slightest. The styles of music that PMJ uses were often developed by musicians that couldn't play "white" concert venues. While we view the Victorian/Edwardian era as a time of manners and class, it was also a time where women weren't allowed to vote and colonialism was at its height. Nostalgia can be a good thing: it is important to remember and honor the past. But it's important to note that the "good old days" were often not good old days for every one. However, I have to say, I don't think it's possible to leave a PMJ concert and not be in a good mood. If you want to catch them on tour, check them out here or you can watch many of their videos on YouTube.
What's Up Next?
I'm going to be struggling to fit in writing in the next few months. This coming weekend we head to Canada to spend the weekend with our son and next month, I'm playing in the orchestra in three high school musicals, so the writing time will be a little harder to find. But later this spring, I hope to have more exciting news
Until next time, Happy Journeys!
Mike
Read More
Back in November, I asked several of my friends to be beta readers for The Reluctant Agent and this weekend, I received their feedback.
What Is a Beta Reader?
A beta reader is a beta tester for a piece of writing.  The beta reader can do a number of things; check spelling and grammar, spot typos, identify plot holes and continuity problems, evaluate characters, and adjudicate the overall quality of the story.
Why Would You Need a Beta Reader?
I can tell you why I needed beta readers more for this book than my previous book. "The Reluctant Captain" was written in a short period – just over three months. This book has been two years in the making. And for whatever reason, it was a slog. There were times when I was really busy and didn't have time to write, but when I did, the words struggled to come out. I try to adopt the Dory model of writing "Just keep swimming, just keep swimming." But the whole time I was writing, all I could hear was the Evil Editor in my head telling me, "This is crap. No one would ever want to read this screwed up pile of words."
For me, having beta readers was the test to see if I was or right (it was a good story and interesting) or if the evil editor in my head was right. And because I've read it over and over and over, I've lost all objectivity. Part of me was starting to believe the Evil Editor.
I'm happy to report that for the most part, I was right and the Evil Editor was just a nagging voice. That's not to say it was a perfect book. I received excellent feedback which corresponded to my own suspicions (but not those of the Evil Editor) and I'm going to tear into it and try to shore up some areas.
What I Look For in a Beta Reader
It's someone whose judgment and opinion I trust –  The people I asked to read my book are people who I've known for a long time and I respect their opinions. If one of them recommends a book, I am very likely to read it (and probably enjoy it very much).
They will be honest, but not in a brutal way – They will tell me if it's bad, but they won't make me feel like a failure in the process. Trust me, the Evil Editor in my head is very good at his job and he needs no help whatsoever.
They are the potential audience for my book – I try to write the kind of book that I want to read. My beta readers fall into that audience as well.
What Does This Have to Do With the Book?
The feedback I've received is kind of spot on with some of the nagging voices I had in my head so I'm definitely going to see how I can apply it. I have to say that while I agree with all the feedback, some of it means a minor reworking of the plot that's been in my head for two years. It's hard for me to now go back and readjust it because I'm not sure what I'm going to do.
So I have a couple more weeks of tinkering. But that's a good thing.
Thanks to Keven, Melanie, Bob, and Donna for reading it!
Happy Journeys!
Mike
Read More
I can't believe it's been four months since I made a blog post! I knew it had been a while, but holy crap!
What's Up Doc?
I can't really explain where all of the time went…much of September and October were spent revising The Reluctant Agent. It should be arriving in the Fall of 2018. When I have more news, I'll let you know.
November was spent traveling and December was all about two things: Music and Christmas. I played five concerts for three different bands and played a Christmas Eve service.
And Here We Are…
And here were looking at the beginning of a brand new year. I've given up on making resolutions; instead, I focus on the goals for the coming year. For me, that includes publishing The Reluctant Agent and starting the next book. In the short term, it means finishing a short story I started around Halloween and working on some smaller things while working towards The Reluctant Agent.
Another goal is to do a much better job of posting here and in social media in general. This is one of the hardest things for me to do because I don't like posting unless I feel strongly about the subject.
That's all for now. I hope that 2018 is a great year for all of us!
Happy journeys,
Mike
Read More