Day Twenty: Under the Sea
Today, we went to the Newport Aquarium, across the river from Cincinnati.  Here;s the view of downtown Cincinnati from Newport:
The aquarium was really great and we saw many things I've never seen before like a shark ray:
And weedy sea dragons:
And jelly fish: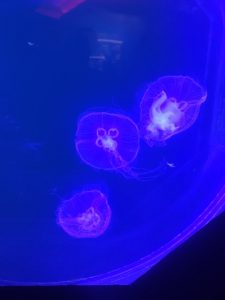 And many other things like sharks:
Sea turtles:
Lion fish:
Dory:
Sea horses: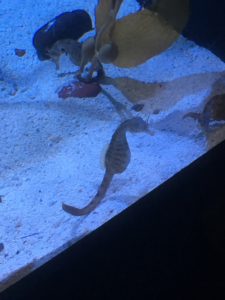 Chameleon: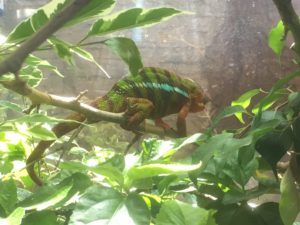 "Mighty Mike" – the alligator:
And penguins:
As we finished touring the aquarium, we had to cross the Shark Bridge – a rope bridge above a tank filled with sharks with freakin' laser beams on their head…OK, no, laser beams, but it was an enclosed rope bridge over a tank of sharks. Here's the view from inside the bridge of the sharks below:
Here's the view of the top bridge from inside the bridge:
It did make me feel like James Bond…okay, maybe Austin Powers…
After we finished the tour, we came back towards the hotel and stopped for Graeter's Ice Cream (a Cincinnati favorite).  We later went out to Montgomery Inn – home of my favorite ribs and barbecue sauce with other friends. We eat and talked for a long time.
Tomorrow, it's on to Erie, PA – we're almost home!
Happy journeys!
Mike