Day Eight: Where the Deer and the Antelope Play (?)
Today we left our comfy cabin and headed to Yellowstone National Park (via the West Entrance, if that  means anything to you). We stop first at the Biscuit Basin to look at some of the geysers and hot springs:
After enjoying the smell of the sulfurous springs, we continued in the car to Old Faithful and of course, we got our obligatory picture of Old Faithful erupting: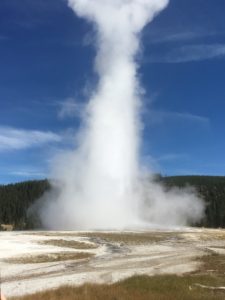 We then headed north to Mammoth Hot Springs with a stop for a picnic along the way. Here are some of the pictures from Mammoth Hot Springs:
We continued from there around to Tower Falls :
All along the way, we enjoyed amazing views:
Now – about the title of this post. I've heard many times how much wildlife you can see in Yellowstone and having to stop to let buffalo or elk cross. After covering half the park, about the only thing we had seen were ravens.
Finally, we caught a herd of buffalo:
And just down the road, we found a solitary bison:
A little farther along, my son caught a picture of a goat:
And we were almost out of the park when we finally saw an elk:
And other than the aforementioned ravens, that is the all the animals we saw at Yellowstone.
Despite not being many animals, the thing that's amazing about Yellowstone is the variety of scenery. There are geysers basins that look like something from an alien world, and then you're driving into wooded plains, sage covered grass lands, pine tree covered mountains and sharp canyon walls.
Tomorrow is another driving day – but much shorter.
Happy journeys!
Mike