Day Five: Into The Badlands

We got an early start because we had a bunch of South Dakota to drive through to get to the Badlands and our campground. Not long after we got on the road, we started seeing signs for Wall Drug every mile for the next the 292 miles – the seemingly western equivalent of South of the Border.
During that time, the scenery had changed from corn and soy bean fields to fields of sorghum, sunflowers, and just plain grass.
We stopped at Wall Drug – a tourist attraction of epic proportions, but we did enjoy looking around and as you can see, I was able to ride the elusive Giant Jackalope
After a quick picnic lunch in the car, we continued to the Badlands National Park.  When got out at the first Scenic Overlook, we were treated by a sign similar to this: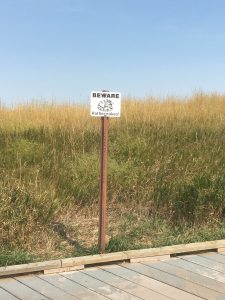 In case you can't read it, it says "Beware of Rattlesnakes".  Gee Toto, we're not in the North East anymore!
Below are just a few of the nearly two hundred pictures I took while we were in Badlands. The scenery was amazing!
Tomorrow it's on to Mount Rushmore, the Crazy Horse Monument, and Devil's Tower.  Disappointingly, we are not going to be able to stop at the the town of Red Shirt (a silly Star Trek reference).
Happy journeys!
Mike