Day Seven: Wild Montana Skies

Today was purely a driving day. That's not to say there wasn't plenty of things to see, but the point of today was to get from Gillette, WY to the West Entrance of Yellowstone – over 470 miles.
As indicated by the lyrics, the morning started out very wet. We headed out on our old friend I-90 and travelled north and then crossed into Montana: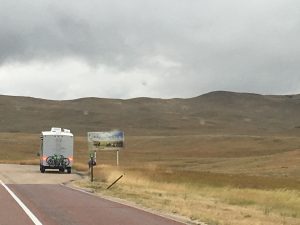 And we travelled across Montana from Wibaux to Bozeman before turning south to the West Entrance of Yellowstone.  We passed by Little Big Horn, but with seven hours of driving today, we didn't really want to take the extra time – maybe on the way back. Montana was a variety of landscapes – flat plains, rolling hills, buttes, and mountains.  Here's a handful of pictures I took:
Tomorrow we tour Yellowstone National Park.
Happy journeys!
Mike