Day Ten: Looks Like We Made It
We packed up early and left Missoula, MT. Here's a picture from downtown Missoula that I took last night, but forgot to load from my phone:
We drove a couple of hours north and before we knew it, we were in Idaho:
We travelled through the mountains of the panhandle of Idaho and before we knew it we were in Washington:
We crossed over very near Spokane. Although we could smell and see some smoke in the distance, we really didn't know there were major wildfires near Spokane and we travelled through with no problems whatsoever. In fact, it wasn't until people commented later that we even knew there were major fires. Truthfully, we had more issues with the managed fires near West Yellowstone (which wasn't much) than the Spokane fires.
As we started across Washington, I have to admit that I was very surprised. I thought that Washington was going to be one huge mass of forests. Instead, as we crossed from Spokane, this is what it looked like:
If I didn't know better, I'd swear that I was in South Dakota or Wyoming.
Eventually, we got closer to Snoqualmie Pass and the view became decidedly more like what I expected:
And finally, we arrived in Seattle:

Here's the view of where we're staying in the University District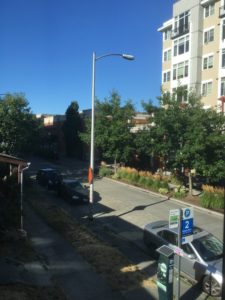 Today was a good lesson in why you should travel – when you see things for yourself, it certainly resets your preconceived notions of places – it certainly has for me!
Tomorrow it's college visit time (University of Washington).
Happy journeys!
Mike